Ферма Шеферда располагается в северо-центральной части штата Миссури на реке Харитона. Семья впервые начал сельского хозяйства в конце 1960-х. Вначале выращивали кукурузу, бобы и пшеницу. Всего под эти культуры было отведено 1900 акров.
Отец Дэна однажды сформулировал принцип благодаря которому перешла в разряд устойчивого сельского предприятия. «Мы можем сделать немного денег делая то, что другие уже делают или мы можем сделать много денег делая вещи, которые другие не будут делать».
Сегодня 80 процентов на ферме отдано под производство семян кормовых трав, а пекан и разведение буйволов занимает остальную часть работы.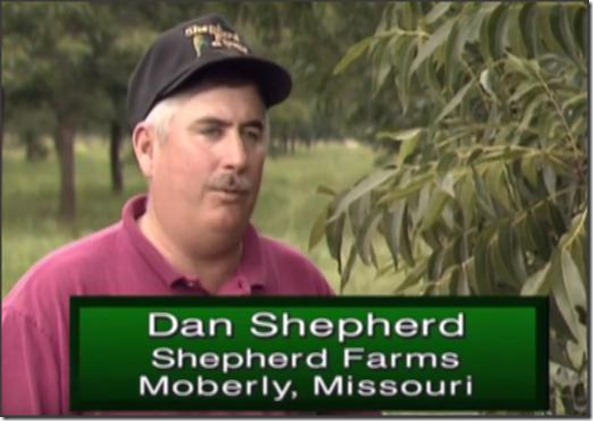 В статье не указан точный вид и сорт кормовых трав, указано только широкое название для этой группы трав GAMAGRASS. По моему мнению речь идет о EASTERN GAMAGRASS — Трипсакум ежевидный или каком то близком растении.
Дэн считает — для того что бы делать карьеру в альтернативном сельском хозяйстве нужно быть в первую очередь хорошим продавцом. Обычно фермеры хорошие производители, но лишь немногие из них хотят сделать карьеру в области продаж». Семья практикует прямой маркетинг, продажи вне сельскохозяйственной биржи. Магазин открыт на самой ферме и работает семь дней в неделю. Им управляет жена Дена.
Они продают различные продукты от выращивания буйволов, начиная с животных на племя, мяса, и до шкур и рогов.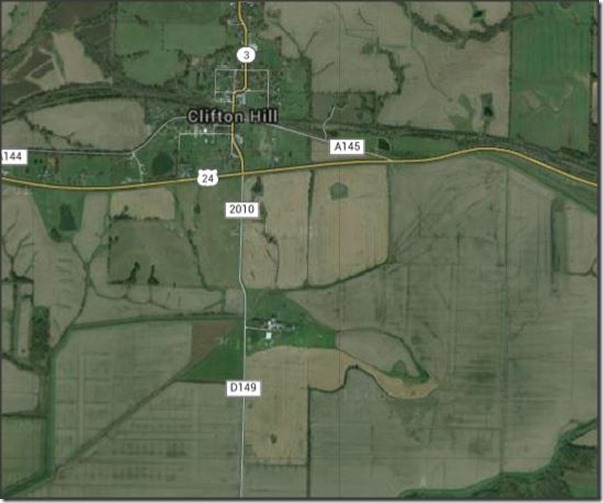 Обеспечивая питание для своих буйволов они выбрали кормовую траву EASTERN GAMAGRASS. И теперь организовали семенное производство. Эта первоначально местная трава формировала состав прерии, но была выбита с окружающих полей много лет назад за счет перевыпаса животных. И в последствии пастбища на соседних фермах были засеяны травами из других регионов, неместными сортами трав. Хотя если соблюдать нормы выпаса и постоянно переводить животных с одного участка пастбища на соседние, то эта трава незаменима – так как она растет от 2 до 3 дюймов в день в летнее время (фантастика – это прирост 5,08 — 7,62 см).
Но за такой травой нужно постоянно приглядывать, она настолько вкусна для животных, что при неконтролируемом выпасе свиньи или буйволы съедят эту траву с корнями до самой земли, и нарушится воспроизводство этого пастбища.
Семена травы не так хорошо приспособлены как другие культуры для машинной уборки. Семена созревают по очереди в колосе сверху вниз, и когда нижние семеня еще не спелые – верхние уже опадают на землю!
Кроме того семена требую холодовой стратификации. Семя не прорастет, если не проходит через период охлаждения. В то же время посев под зиму дает корм мышам и грибкам, которые поедают значительную часть семян.
Шеферд смог найти решение для всех этих сложностей капризной , но высокоурожайной культуры и стал крупнейшим производителем и грузоотправителем EASTERN GAMAGRASS в стране.
Как Шефард выращивает пекан и как использует аллейное земледелие расскажу в следующий раз.
| | | | | |
| --- | --- | --- | --- | --- |
| Teh | Socio | Bio | Anthropo | Econ |
Действия сотрудничества с блогом и нашими проектами:
Самое лучшее это личный опыт, свяжетесь со мной кто имеет практику в данной теме, я подготовлю запись на основе вашего рассказа

Сделать реферат по статье или перевод полного текста

…
Многие материалы появились здесь, потому, что кто-то из читателей блога прислал интересную ссылку, или рассказал о своем личном опыте
Знания

Аллейное земледелие

"alley-cropping"

Агролесоводство

Люди, организации

Shepherd Farms,

Ферма Шеферда

Территории

Северо-центральной части штата Миссури
© www.method-estate.com Копирование материалов блога возможно только при наличии активной ссылки на страницу блога с оригинальной записью
Связанные записи:
---
Ссылки то теме:
---
Дополнительная информация:
Shepherd Farms, Inc.
1580 CR 2010
Clifton Hill, MO 65244
Phone: 660-261-4567
800-327-0211
---
Словарь:
Аллейное земледелие

"alley-cropping"

Агролесоводство
---
Хорошая статья на основе перевода которой я сформировал описание фермы:
In 1971, Shepherd Farms started planting pecan trees hoping that in some year they would produce some of the finest northern pecans. That dream is now a reality. For many years Jerrell Shepherd, the founder, searched North Missouri looking for that perfect pecan to graft on the young trees. With all that work has come some of the tastiest pecans grown in the USA on our 200 acre plus orchard. Northern pecans are known for their high oil content which translates into a flavor that just can't be beat.
Shepherd Farms operates an on-the-farm country store where we sell some of the products that we grow, plus many more goodies.
The farm store is located 13 miles West of Moberly on Highway 24 at the Cliftonhill junction, then 1/2 mile south down the gravel road. The large sign on the highway will direct you to the farm. We do have truck parking and can accommodate campers and motor homes.
Along with the pecans we also carry some of the finest jams and jellies, which include many sugar free fruit spreads. The store is open October, November and December and our hours are 8 a.m. to 6 p.m. Monday through Saturday.
We are a shipper with UPS and can send about anything anywhere for you. We take MasterCard and Visa over the phone, so call our toll free number 800-327-0211 and place your order.
We do not have a web site order form, as shipping is figured for each shipment. So just give us a call or send an e-mail and we will get the cost figured.
Shepherd Farms is in north central Missouri on the Chariton River. The family first began farming there in the late 1960s, growing corn, beans and wheat on 1,900 acres. Later, they broadened into more unusual crops. Dan's late father once shared a great nugget for planning a sustainable farming venture. "We stand to make a little money doing what others are already doing," he said, "or we can make a lot of money doing things others won't."
Today, Dan puts about 80 percent of his time into producing and marketing gamagrass seed, with pecans and buffalo taking up most of the rest of his efforts.
Dan believes that to be successful in alternative agriculture, a person needs to be a good salesperson. "You have got to communicate to sell. Some of the most successful people in the world are salesmen. Farmers are great producers, but few of them want a career in sales."
Current marketing of conventional commodities and livestock production means someone else is setting the price. Standing on the trading room floor in a place like Chicago or Kansas City is a trader telling the farmer what their price will be. "Nobody is doing that in the buffalo business," Shepherd says. The family takes direct marketing very seriously and maintains a store on their property. They sell a variety of buffalo products, from breeding stock to meat, hides and horns. They created a diverse product list that includes their pecans, sweet corn and pumpkins as well as peaches, jellies and other nuts they purchase in Arkansas, Missouri and Kansas for re-sale.
The store is open seven days a week until 6 p.m. Dan's wife, Jan, runs the store, does the billing and manages the books. Dan oversees the day-to-day farm operations and makes all the purchases.
Focal Point of Operation — Alternative crops
The family backed into producing their no. 1 crop. While seeking a good native forage for their buffalo herds, they tried grazing them on eastern gamagrass. The buffalo loved it. With help from USDA researchers, the Shepherds learned ways to grow and harvest seeds from the palatable forage.
"There is no finer grass," Dan says. "When people found out that we had seed, they wanted to buy it. So we decided to get in the seed business."
Eastern gamagrass is a tall, native, warm-season grass that has largely disappeared from the Plains because of over-grazing and cattle producers opting for non-native grasses. Shepherd likes the crop not only because his buffalo graze it, but also because it can grow up to 2 or 3 inches a day in the summer. It thus provides a lush cover with high tonnage.
Raising gamagrass, however, poses some real challenges. It is hard to harvest and has to be carefully managed to avoid overgrazing. "Historically, the problem for sustaining stands is it's so highly palatable, so tasty for the animals, they wipe it out," Shepherd says. "Buffalo or a free-range hog will eat it right down to the dirt."
Finally, growing it for seed requires impeccable timing and care. Eastern gamagrass seed has to go through a dormancy period; the seed will not germinate unless it goes through a cool-down period. "We used to plant the seed in December, but the mice and fungus would work on it all winter," he says.
The seed, which is very green with a moisture content as high as 65 percent, never ripens at the same time. The seed head ripens from the top down and, as the seed matures, it falls off. Shepherd keeps a close eye on the plant to ensure the most seed for sale. The high moisture content and the variable harvesting time means that they can only capture 25 or 30 percent of the seed.
Time is of the essence. Shepherd often calls his custom combiner the evening before and says they need to begin harvesting first thing the next morning. It's stressful work. "They have to watch the machinery very closely — one clog can gum up the whole works," he says. "And that wears them out."
They soak the seed in a water and fungicide solution, then store it wet, just above freezing, for about six to eight weeks. Shepherd's attention to detail has helped him become the largest grower and shipper of eastern gamagrass seed in the country. He ships to customers all over the U.S. starting in early March and continuing through June.
"There is a bit of a misconception out there that somehow, whatever we are able to import has to be better than what we already have here, but people are finally starting to come around to the value of the grass," he says.
The farm's focus has changed a lot since it was first purchased to raise pecans. Originally, the family planted 900 trees on 15 acres in 1969. "The trouble was, we are about as far north as you can go and still raise a good nut," says Shepherd, who, at 14, helped plant most of the first trees. "We really didn't know what we were doing."
It takes a great deal of time to start and attain an orchard of quality pecan trees. The Shepherds educated themselves about how to graft native root stock and known varieties for a better producing tree with a better nut. Dan's father used to drive around Missouri on weekends, seeking quality pecan trees to improve their stock.
It took close to 20 years before they achieved a viable nut harvest. But they will continue to reap good harvests for another 80.
"The nice things about these trees is that they will produce while we just tend to them and amend the orchard as needed," Shepherd says. "But it was a heck of an up-front investment. We worked for 19 years before we were seeing a good, sustainable return from them."
In between, the family broke even by farming the alleys between the trees, an agroforestry method known as "alley-cropping." They grew wheat and soybeans for small returns that basically paid for their expenses.
As the trees matured, they crowded out the row-crop rotation so the Shepherds seeded the floor with blue grass. The grass does not produce a lot of tonnage, but offers a great feed for the Shepherds' third main commodity: buffalo. The family began raising their first herd in 1969, rotating them through gamagrass pastures in a management-intensive grazing program. In the summer, the herd is moved every four days.
Growing the gamagrass provides them with quality hay. They manage about 1000 acres for hay and pasture, reserving 400 acres for seed production.
Economics and Profitability
Shepherd's economic data speaks for itself. The gamagrass seed is consistently profitable, with the Shepherds netting about $700 per acre. After several years, their pecan trees began producing nuts. In 2000, they netted about $300 per acre in pecans, but expect to triple or even quadruple that profit in another decade.
The store does a bang-up business, too. Last year, they sold 70,000 ears of sweet corn at 10 cents each. Even at that low price, the Shepherds net about $1,000 on 15 acres. Besides, sweet corn helps draw customers to the store, where they may be tempted by other products.
Environmental Benefits
The Shepherds began growing eastern gamagrass partly for its environmental benefits. After the first year, when the stand is established, there is no need for pesticides, though Shepherd does continue to apply fertilizer. "Chemicals are a tool, but we use them wisely," he says.
Nor does Shepherd need to disk or plant on a yearly schedule. Therefore, he minimizes erosion. At the same time, the thick grass provides a natural wildlife habitat.
Gamagrass plants will last 10 to 15 years before production slows. Its extensive root system helps break up compacted soil layers. When older roots decay, organic matter improves. When production falls, Shepherd burns the grass, disks the soil, then follows with row crops for a year or two.
Practicing agroforestry brings environmental benefits, too. By pairing complementary tree and row crops, the Shepherds provide erosion control, wildlife habitat and semi-permanent homes for beneficial insects.
Community and Quality of Life Benefits
With harvest times varying throughout the year, it allows for a sane production and harvest schedule. The Shepherds employ one full-time worker and a part-timer from the community. In the summer, they elevate their part-timer to full time, and add additional part-time help — usually local kids.
"Everything fits together," Shepherd says. "The gamagrass, pecans and buffalo all come in at different times. We're busy year round."
Clifton Hills has a population of somewhere between 80 and 100 people. The community is small, and everyone knows everyone else. The Shepherds help sponsor "Buffalo Day," when many from the area come together to eat buffalo burgers donated by Shepherd Farms.
The Shepherds keep young people in their lives by participating in an exchange program through their Rotary Club. They have hosted youths from Russia, Thailand, Belgium and France. The children stay for four months, then go on to another family.
Transition Advice
Trying new alternatives in agriculture is not necessarily a "save-all" approach, Dan says. "Don't look to alternative ag as a bail out," he says. "Think of getting in, or making the change to this system in good times, not bad. Alternative ag produces different yields seeking different markets."
It's important to be committed and be willing to take risks, he says. "The average learning curve for anything new is up to eight years," Shepherd says. "It takes that long to know what the heck is going on. I see so many people get in, try something for a few years, and then quit. They take all that risk, do all that work, and then walk away before they can see their investment to fruition.
"You won't know what will or won't work until you try it. It's a lot easier for people to sit back and say it won't work. There's no risk there and we've heard a lot of that over the years. Making change, taking an alternative path in farming, or anything else for that matter, is not easy. If it were, everyone would be doing it."
The Future
The Shepherds are happy with the status quo on the farm. Dan Shepherd is pondering creating a beef stocker operation and/or raising cows on a rotational pasture system.
http://www.newfarm.org/archive/1000_stories/sare_stories/shepherd.shtml